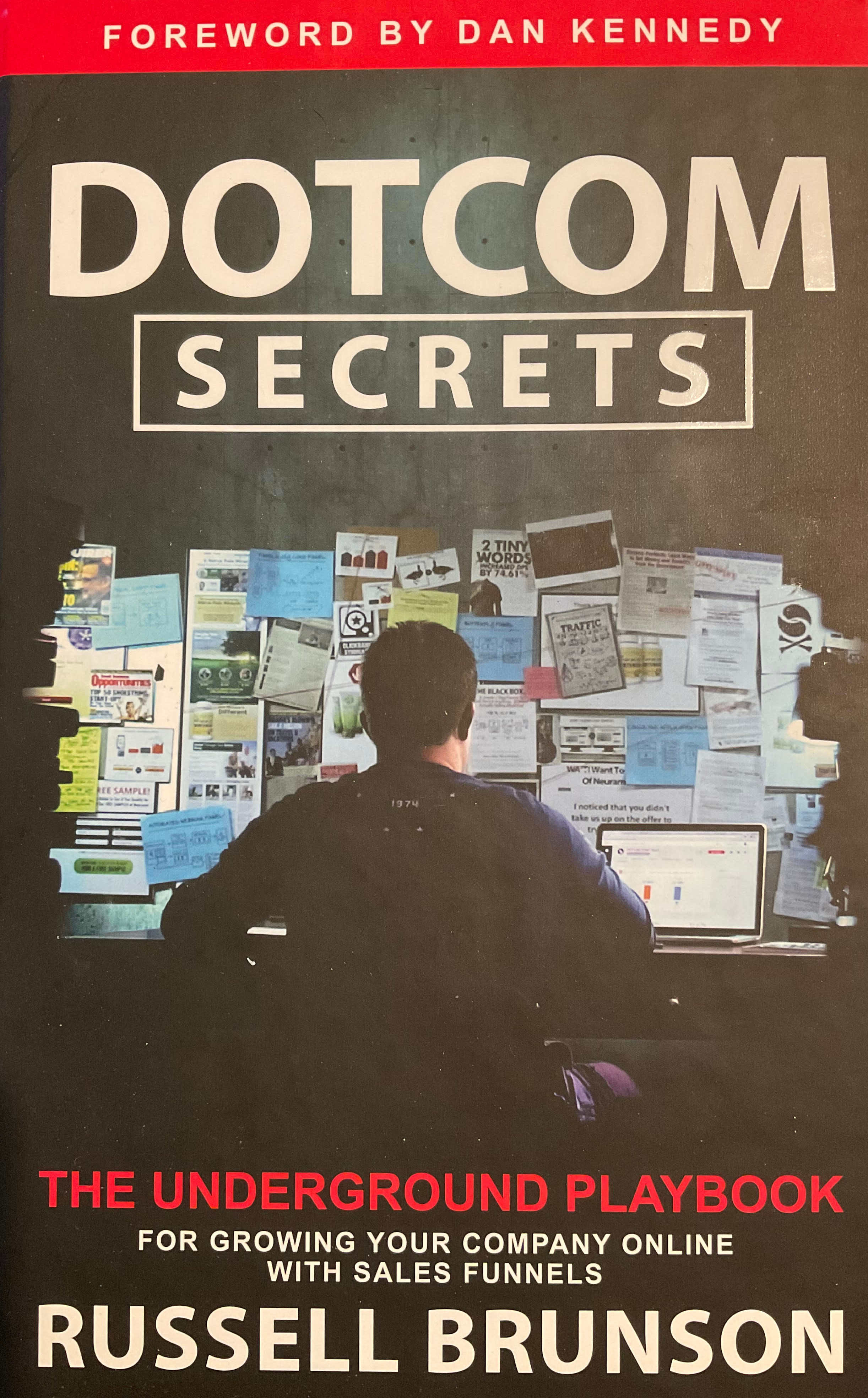 May 14, 2022
DOTCOM Secrets - How To Funnel Money Into Your Company
Properly exploited, one good idea that occurs to you while walking on a beach is worth more than ten lifetimes of hard work.Gary Halbert, mention in 'DOTCOM Secrets,' pg 370
Top Five Takeaways From 'DOTCOM Secrets'
First, Who Is Russell Brunson?
Multimillionaire
Started selling potato gun plans online in college
Evolved online marketing strategies and patterns to funnel new business to an e-commerce website calling them sales funnels
Developed a software company, with co-founder Todd Dickerson, called 'ClickFunnels' to help non-software types develop online sales funnels
ClickFunnels did over $60 million ARR in 2018
ClickFunnels had about 55k users in 2018
ClickFunnels had around 130 employees in 2018 with average revenue per employee around $461,538
ClickFunnels had around 15 software engineers in 2018
Second, 4 Secrets To Success
Identify who your dream customer is.
Identify where your dream customers are congregating.
Build the hook, story and offer that you will use to attract your ideal customers.
Identify the unique result or value you can create for your dream customer.
Third, Split Testing
'Split Testing' is when you run two systems side-by-side to see which performs better according to some metrics that you have defined. In the context of sales funnels, you might split-test sales funnels to see which modification you are iterating on improves revenue.
Brunson writes that it may take many iterations to get to a productive sales funnel. You might be tempted to create multiple sales funnels to get the results you desire, but Brunson says to stick with a single funnel until that one funnel is making you a million dollars or more in revenue.
If your funnel isn't working, it's always the hook, the story, or the offer.Russell Brunson, 'DOTCOM Secrets', pg. 385
Fourth, Know Your Numbers
In order to understand how well your sales funnel is performing you need to know its performance numbers:
Cost Per Acquisition (CPA), or Customer Acquisition Cost (CAC). How much money does it cost your company to acquire each customer? E.g., $1000 in marketing spend to sell 100 items gets you a CPA of $10. You want your CPA to be as low as possible.
Average Cart Value (ACV). The average amount someone will spend once in your sales funnel. E.g., Total Sales / Total # Customers = ACV. You want your CPA to be less than ACV in order to have a productive sales funnel.
Fifth, The Power Of The Upsell
The thing that helped Russell Brunson reinvigorate sales for his potato gun plans, when search engines changed their advertising algorithms and cost, was the concept of upselling. Even though it was more expensive for Brunson to sell potato gun plans online due to increased advertising costs, he was able to modify his sales strategy to realize a profit by trying to upsell each potential new customer on a potato gun kit to accompany the plans he was selling.
We all know what an upsell is. Would you like to 'supersize' your order? McDonalds averages $1.32 extra profit per customer (according to one reference) via the upsell.
One to two upsells at the end of a cart transaction is considered optimum.
…one good funnel, properly exploited, is worth more than ten lifetimes of hard work.Russell Brunson, 'DOTCOM Secrets', pg 370
Relevant Links
James Caple BLOG
podcast learning entrepreneurship competition innovation learning personal growth leadership adventure russell brunson todd dickerson clickfunnels funnel hacking e-commerce small business marketing sales bryan post saas dotcom secrets dotcom
Dialogue & Discussion