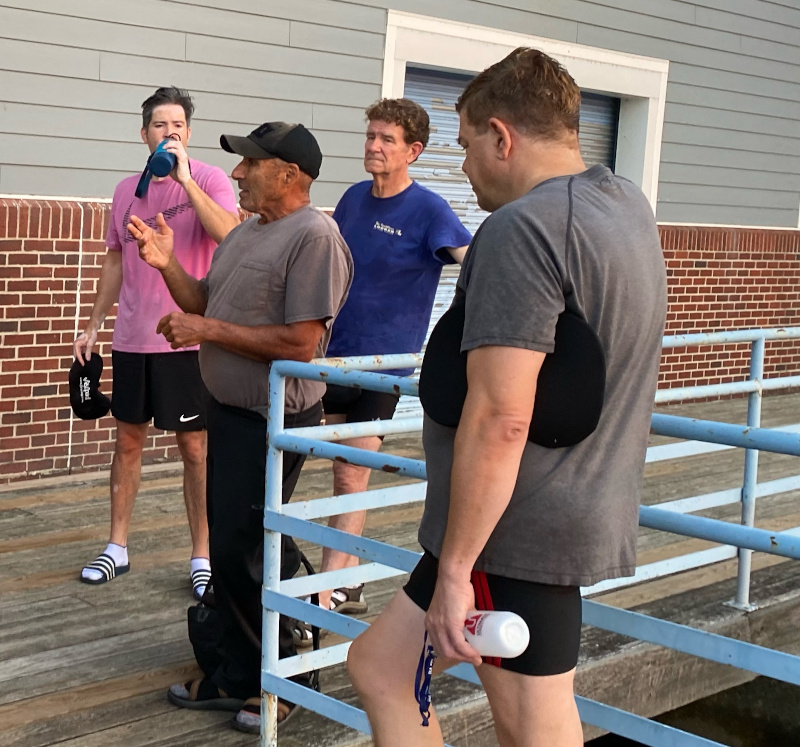 October 01, 2022
Rowing From Lima, Peru to Alexandria, Virginia
It was fun, and fun it was.Jaime Rubini, on his experience rowing at the Pan Am Games in Cali, Columbia in 1971
Lima, Peru
Jaime Rubini grew up in Lima, Peru, where he started rowing on the ocean with the Club de Regatas Lima. Early on, he indicated an affinity for the sport of rowing. He participated in the Pan Am Games in 1971 (in Cali, Columbia) where he was inspired by the performance of Argentinian Sculler, Alberto Demiddi, in the single sculls event. He was later to learn that his grandfather had been a successful oarsmen in the early 1900's.
Rowing is in the Rubini genes.
Vesper Rowing Club
Not long after completing his high school education, Jaime decided to come to the United States to pursue his dream of becoming a single sculler in the Olympics. A friend of his had gone to Syracuse University who had connections at Vesper Boat Club. He recommended that Jaime should try to go to the Vesper rowing club in Philadelphia, PA. Once in Philadelphia, fate took him to the office of John B. Kelly, Jr. where he would negotiate a berth (or bunk) at the Vesper boathouse. Mr. Kelly told Jaime that if he could find a place to sleep at the boathouse, he could workout out at the boathouse.
Gold medal rower, Bill Knecht, and sculling coach from Romania, Anna Tomas, helped him get situated on the sculling team. In addition to Bill Knecht and Anna Tomas, Jaime recalls there being other famous rowing names at the club as well, such as Vespoli and the Dreissigacker brothers on the sweep team, not to mention the mascot, 'Vesper' the cat.
Once situated at Vesper Boathouse, Jaime performed odd jobs nearby, such as 'bundle boy' (listen to the podcast to find out what a 'bundle boy' is) and busboy, eventually living in a rather sketchy part of town. Irish rowing champion, Sean Drea, purportedly slept in his boat for some time before deciding to find more 'livable' accomodations in the city. After buying a cheap house for around $300, Sean invited Jaime to live at his house with him on the corner of N 19th Street and Parrish in Philadelphia, no doubt for company and a sense of security. They had no running water or a bathroom at the time, but that's sometimes the price you have to pay while chasing dreams.
The pair were eventually able to boot-leg electricity and water to the house, and eventually even installed a used toilet. Yet, Jaime looks back on the whole experience with great fondness!
Positive Rowing Influences
Jaime shared with us that his coaches and teammates at the Club de Regatas Lima in Peru had a profound positive impact on his love of the sport of rowing, and his desire to continue striving to get better regardless of the perceived height challenges his coach thought he might face.
As mentioned above, John B. Kelly, Jr. had a profound impact on Jaime's rowing career by giving him a chance to row at Vesper Rowing Club. Kelly also provided powerful and supportive connections, such as Bill Knecht and Anna Tomas.
Bill Knecht and Anna Tomas helped Jaime get situated at Vesper rowing club as a member of the sculling team with the equipment and coaching he needed.
Irish rowing champion, Sean Drea, was especially influential in Jaime's life and rowing career at Vesper Rowing Club. Not only did Sean hook-up the electricity and plumbing at their apartment at N 19th Street and Parrish in Philadelphia, but he was also a great friend and mentor.
Alexandria, Virginia And Giving Back
Jaime is now a successful entrepreneur and proprietor of Rubini Jewelers in Old Town, Alexandria on 632 N Washington St. He is also a proud father of three kids - two girls and one boy: Lauren, Joanna, and Christopher. His daughters, too, have had a profound impact on the US Rowing community and Titan Rowing at TC Williams high school.
He has built a successful coaching career coaching high school kids at West Potomac and TC Williams high schools, as well as adult masters rowers rowing with Alexandria Community Rowing (ACR).
US Rowing and Alexandria, Virginia, are better communities because Jaime Rubini has pursued his dreams. For it's the Kelleys and the Knechts and the Vespolis and the Dreissigackers and the Thomas' and the Rubinis that have helped make the rich US Rowing culture what it is today!
May it live long and prosper.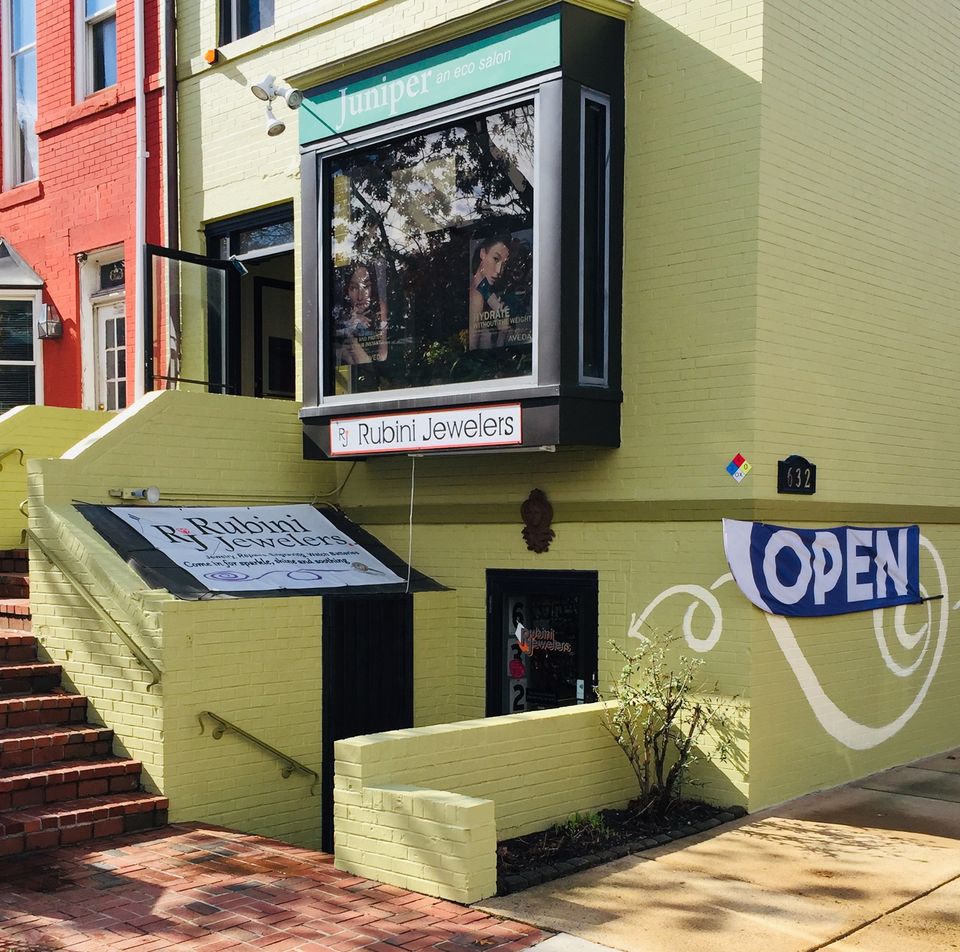 Rubini Jewelers on 632 N Washington St in Alexandria, VA
Lauren and Joanna working the Rubini Jewelers tent at a rowing regatta.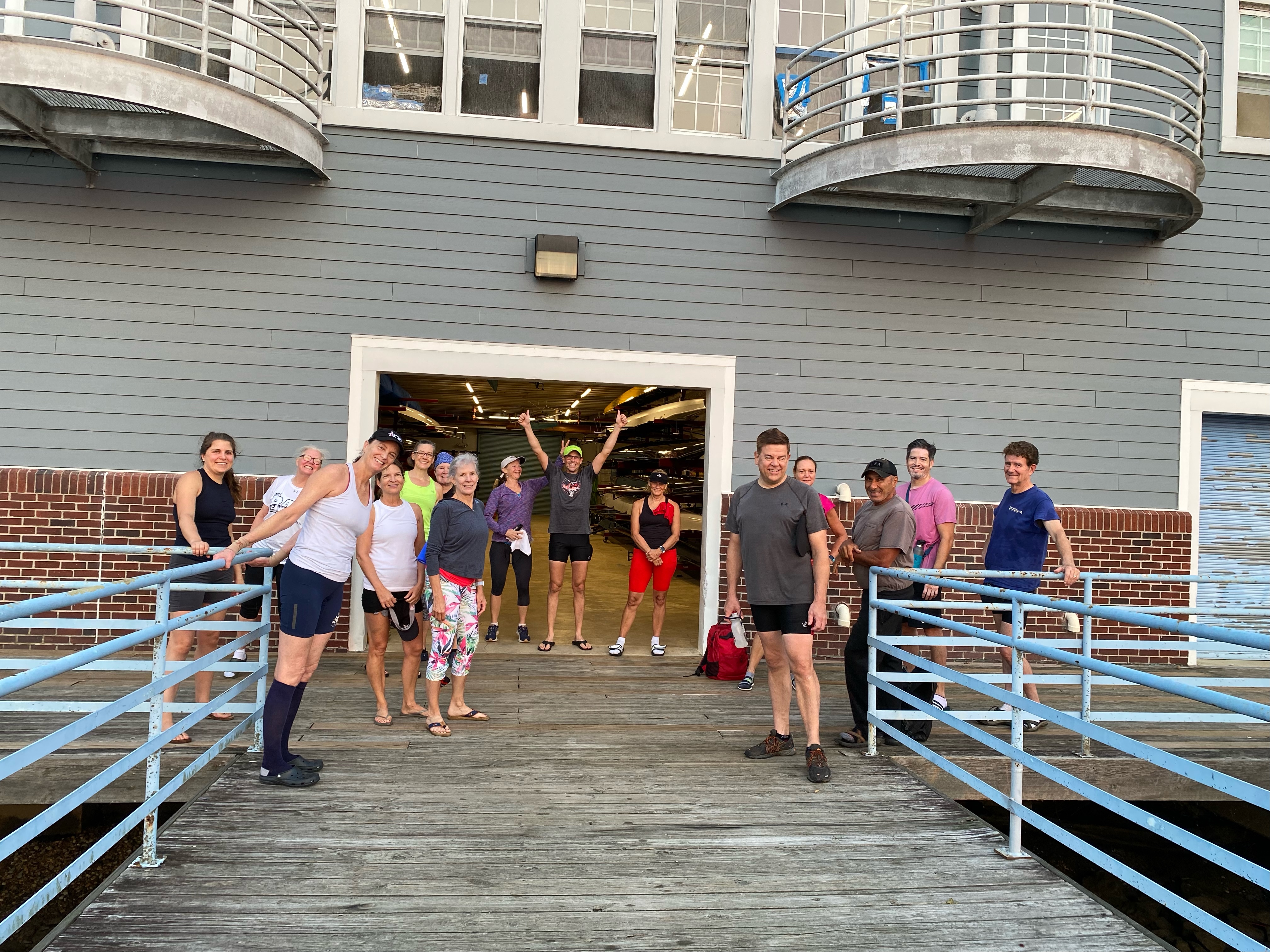 Jaime with some of the Alexandria Community Rowing Sweep Team after a morning practice.
Thanks To The Rowing Coaches!
As we reflect on the power of coaching these last two podcast episodes, we've begun to realize the impact of so many rowing coaches in our own lives. So thanks to all of the following rowing coaches for your time, encouragement, inspiration, connections, resources, hope and technical direction in pursuit of dreams, better health, excellence and the improvement of the human condition:
Igor Grinko - US Sculling Team Coach from Ukraine (now deceased) who once told me his women rowed faster than me. He never coached me directly (I guess obviously), but I will never forget his comment as it still motivates me and makes me laugh!
Bob Spousta - George Mason University rowing coach who once gave me his child's used baby stroller (baby gear is expensive!). He also helped me get into Potomac Boat Club in the early 90's.
Ken Dreyfuss - My eternally positive sculling coach at Potomac Boat Club in the early 90's.
Pete Hearding - My M5D masters rowing sweep coach at Alexandria Community Rowing. a.k.a 'Hearding Cats'
Alan Weatherley - My M5D masters rowing sweep coach at Alexandria Community Rowing. a.k.a 'Big Al'
Mike Chin - My sculling coach at Alexandria Community Rowing who always knows the morning weather and tides.
Jaime Rubini - Our devoted masters rowing sweep coach at Alexandria Community Rowing.
G. Bruce Cobbold - Cindy's high school sweep rowing coach and mentor at Tabor Academy who sealed her love for the sport of rowing through his encouragement and humor.
Roz Savage - Our ocean rowing coach and mentor who encouraged us to do a roll test…and I refused.
Always listen to your coach!
Ads
Relevant Links
James Caple BLOG
podcast learning entrepreneurship innovation learning personal growth intelligence jaime rubini rubini jewelry coaching dee campbell rowing center dee campbell vesper rowing club rowing lima peru alberto demiddi argentina bob agron philadelphia tom daley allen rosenberg alan weatherley ken dreyfuss pete hearding vespoli dreissigacker brothers usrowing club de regatas lima
Dialogue & Discussion